Japanese culture and fishing experience on Awaji Island
A special experience offered by a ryokan. Starting today, you too will love Japan and the ocean.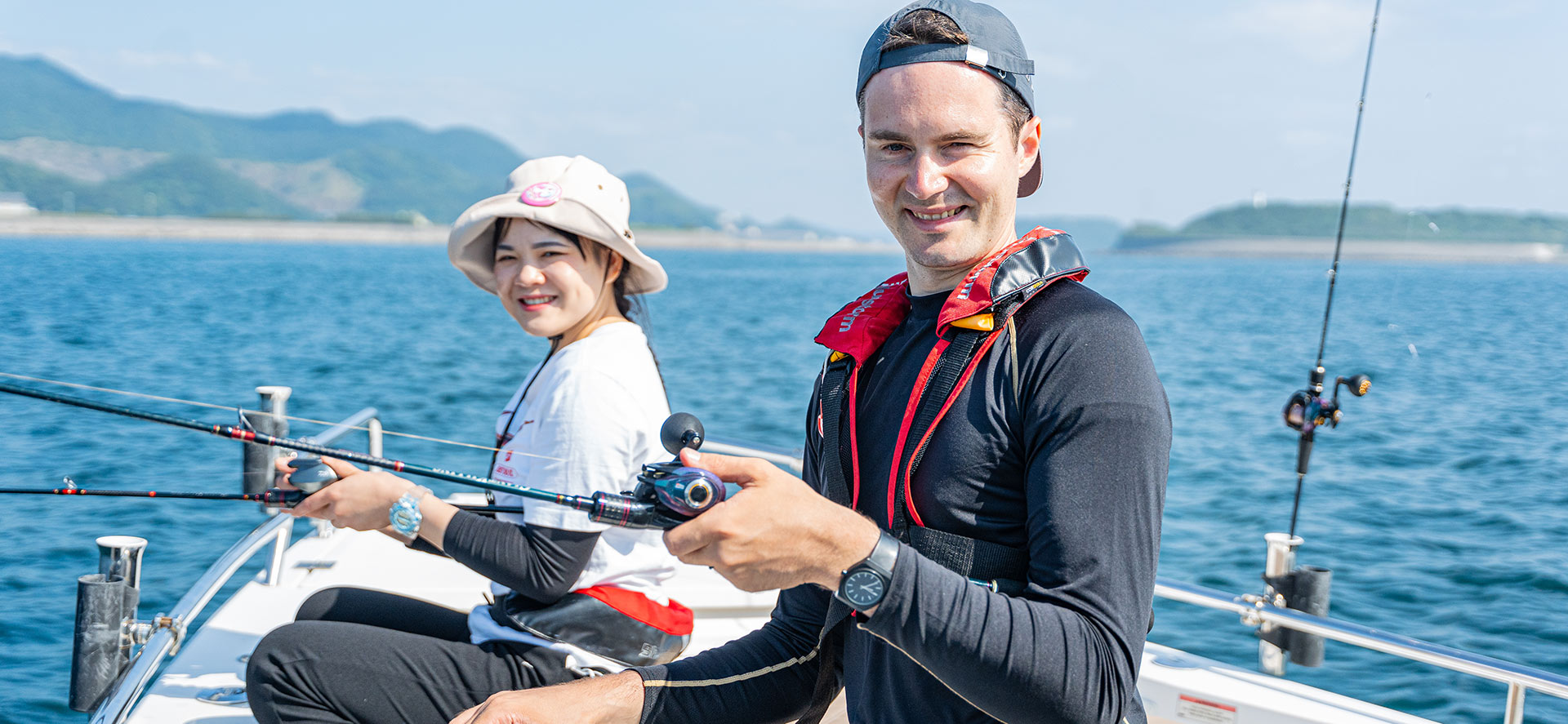 The hotel offers fishing experiences that are certified by the
"2025 Osaka Kansai Expo Hyogo Field Pavilion SDGs Experiential Regional Program" to all customers.
You can fish in the sea that spreads out in front of you at a dedicated fishing spot that can be used 24 hours a day.
You can also enjoy boat fishing and interact with the ocean. You can eat fish you catch and learn about the environment.
You can also enjoy Japanese culture such as Japanese cuisine, hot springs, yukata, izakayas, futons, etc.
The hotel has staff of various nationalities so they can support overseas guests without anxiety.
There are also plenty of kids' events so that everyone in the family can enjoy themselves.
Click here to make a reservation
Fishing experience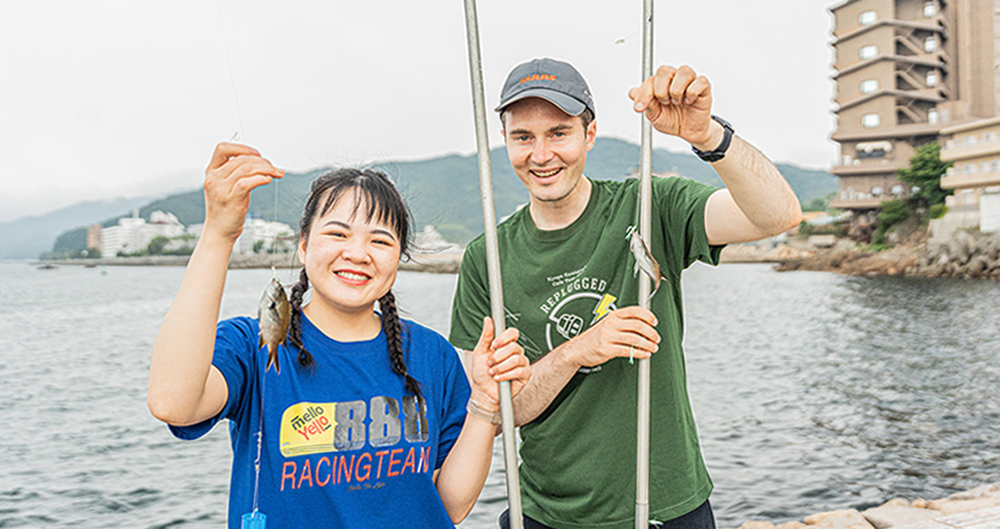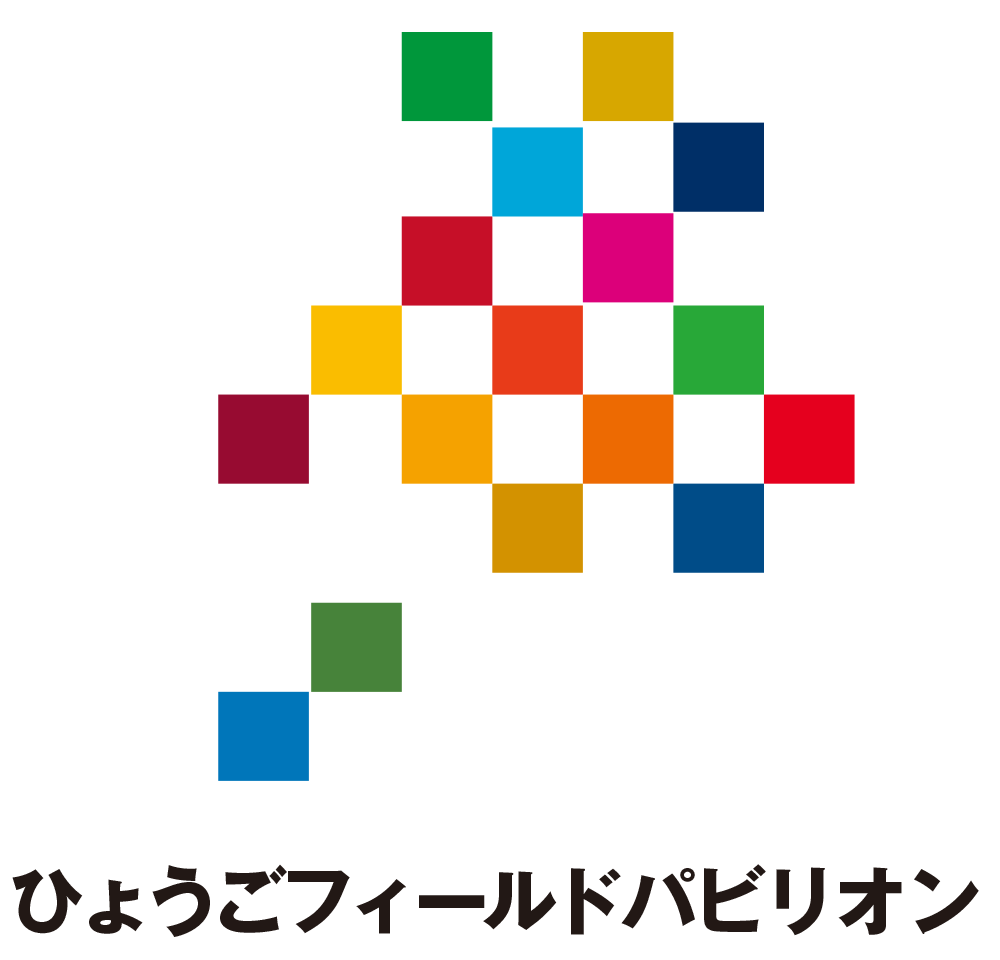 Our fishing experience is an SDGs program that all guests can experience for free.
The fishing area inside the hotel is open 24 hours a day, so you can enjoy yourself freely at any time.
In this program, you can learn about seasonal fish, marine manners, and learn how to fish and to prepare them for eating.
Our dedicated staff will support you, so there is no need to worry even if you are a first-timer.
Once you've caught a fish, try you can eat it for dinner that day.
The taste is sure to be an unforgettable memory.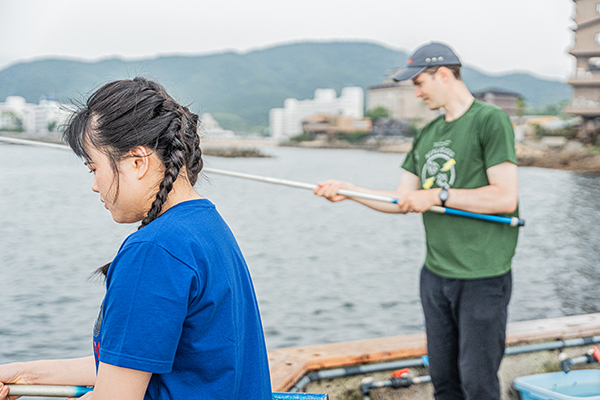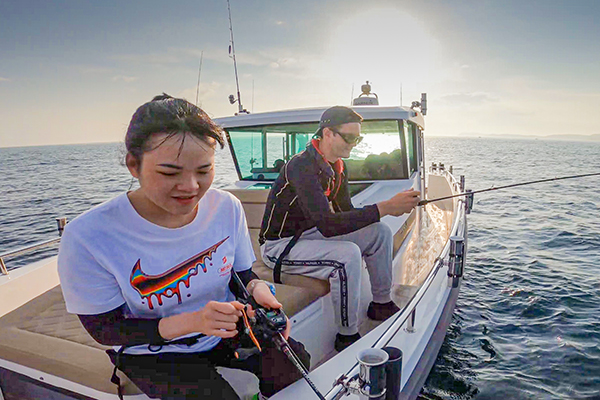 Boat fishing is also available upon request.
This is your chance to catch big fish.
There is a fee for this program. Please inquire in advance.

Boat fishing reservations
Tel: +81-0799-26-0111
email: akh@awakan.com
japanese culture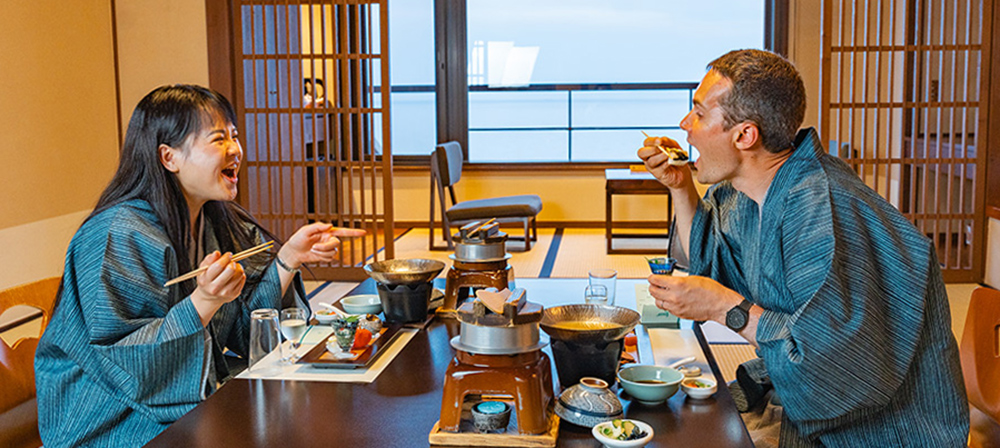 After enjoying various events, you can enjoy Japanese cuisine and culture.
The Japanese custom is to bathe in a hot spring, wear a yukata, and eat kaiseki cuisine in your room.
The fish you just caught will also appear as a dish with your meal.
After the meal, you can enjoy Japanese sake and local beer at an izakaya.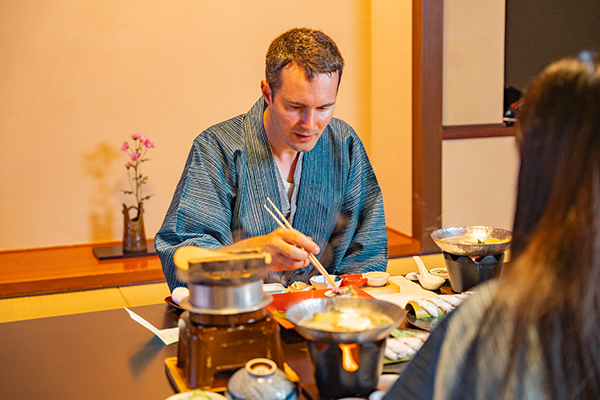 Enjoy seasonal kaiseki cuisine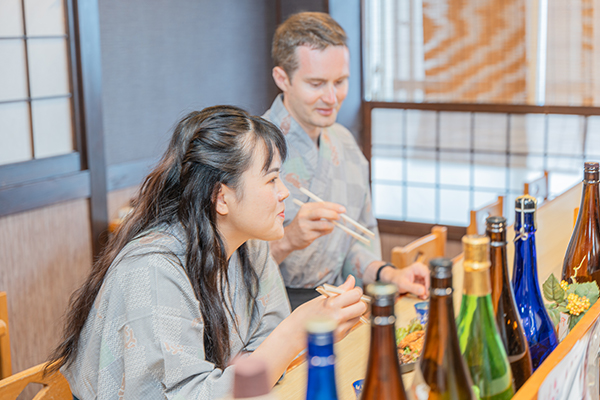 Izakaya experience at "Isobe-tei"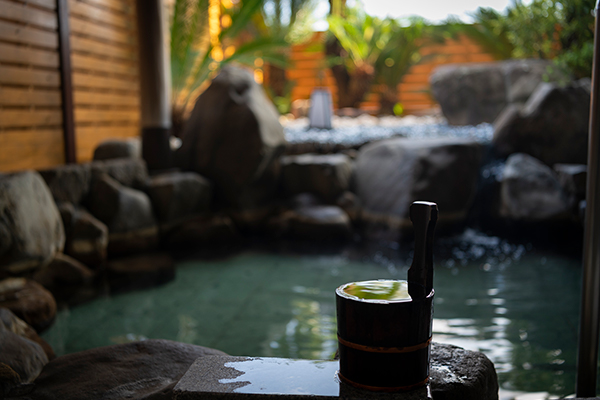 Relax in a hot spring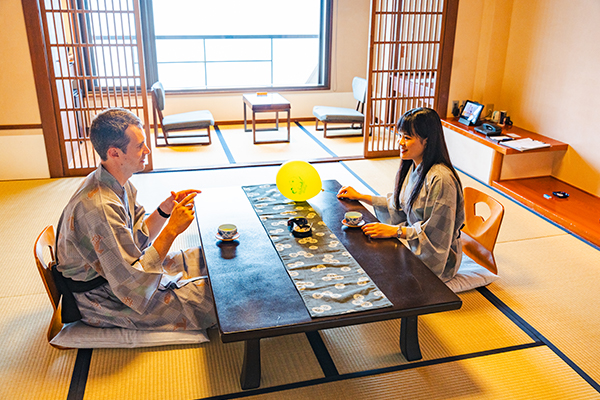 Enjoy Japanese culture
Guest support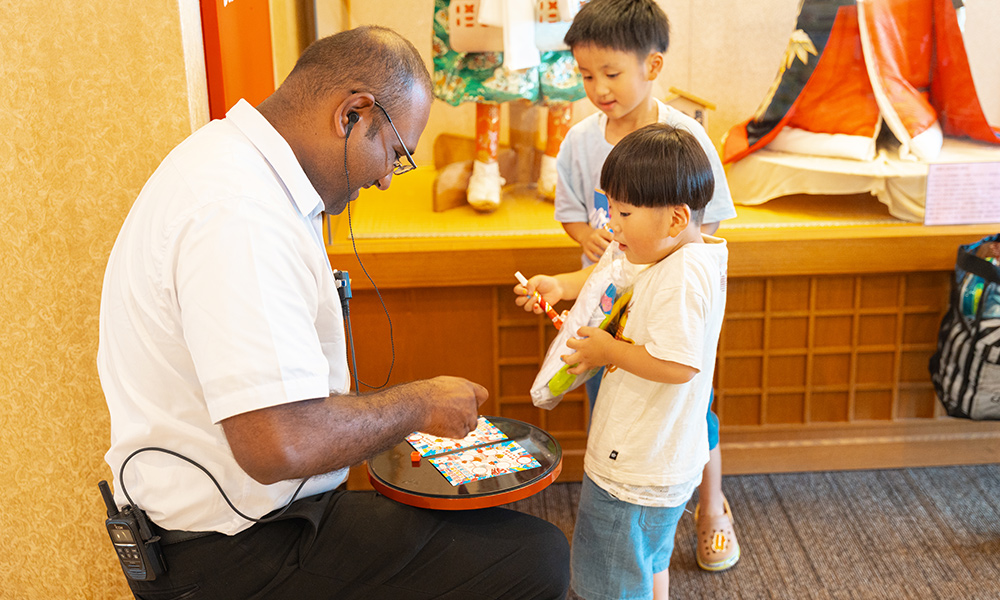 The hotel has knowledgeable multinational staff to assist guests.
There should no anxiety about communication.
Please relax and enjoy your stay.
Supported languages: Japanese, English, Nepali, Sinhala, Vietnamese, Indian, German, Russian, Latvian.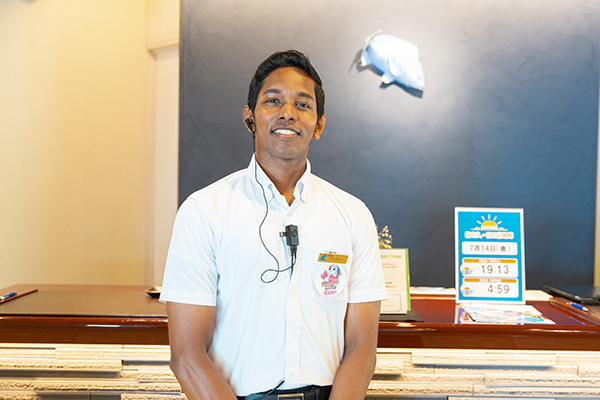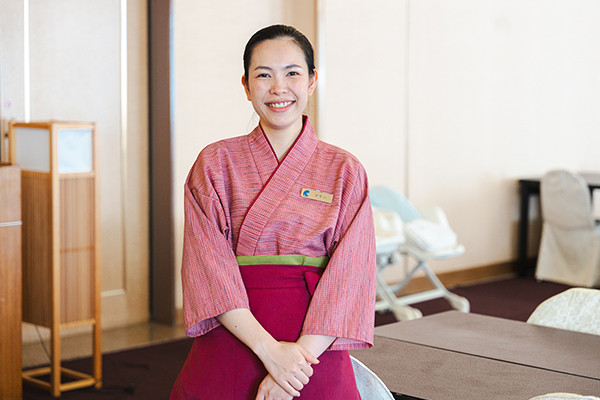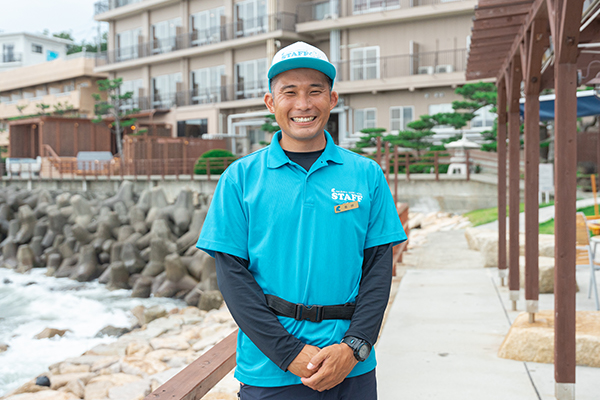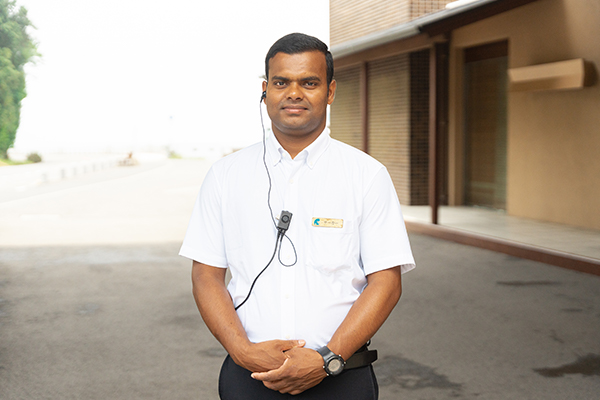 Attractions in Hyogo Prefecture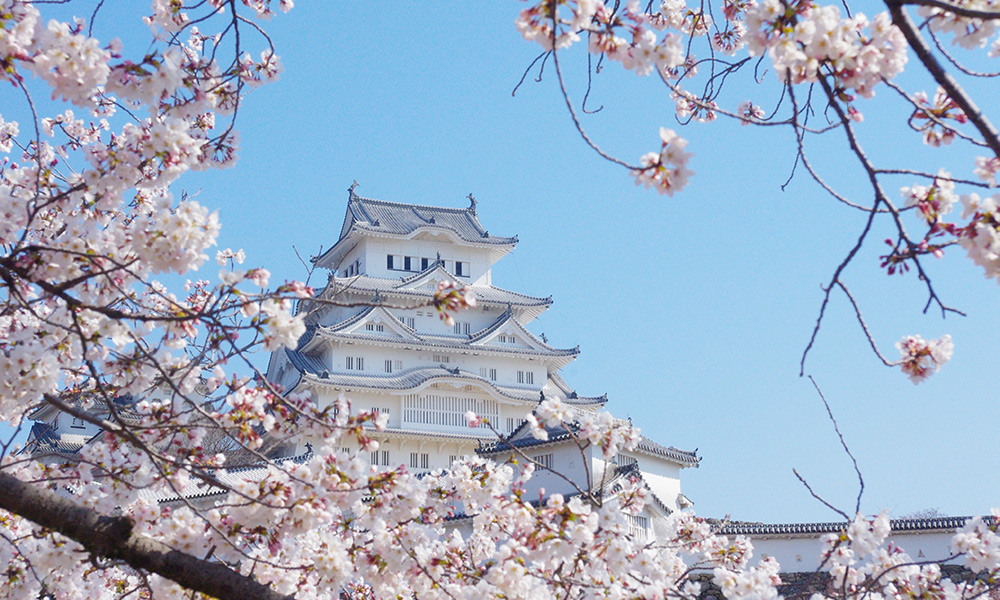 Himeji Castle, a national treasure
Himeji Castle, a national treasure, is a renowned castle representing Hyogo Prefecture and Japan.
In December 1993, along with Nara's "Horyu-ji Temple," it became the first World Cultural Heritage site in Japan.
The main keep of Himeji Castle was built in 1609 and has maintained its beautiful appearance for over 400 years.
It is also known as the "White Heron Castle" due to its resemblance to a white heron spreading its wings, and it is a popular castle among visitors.
It takes about 100 minutes by car from Himeji Castle to "Awajishima Kanko Hotel."
After enjoying Japan's history, why not indulge in the experience of staying at a traditional inn?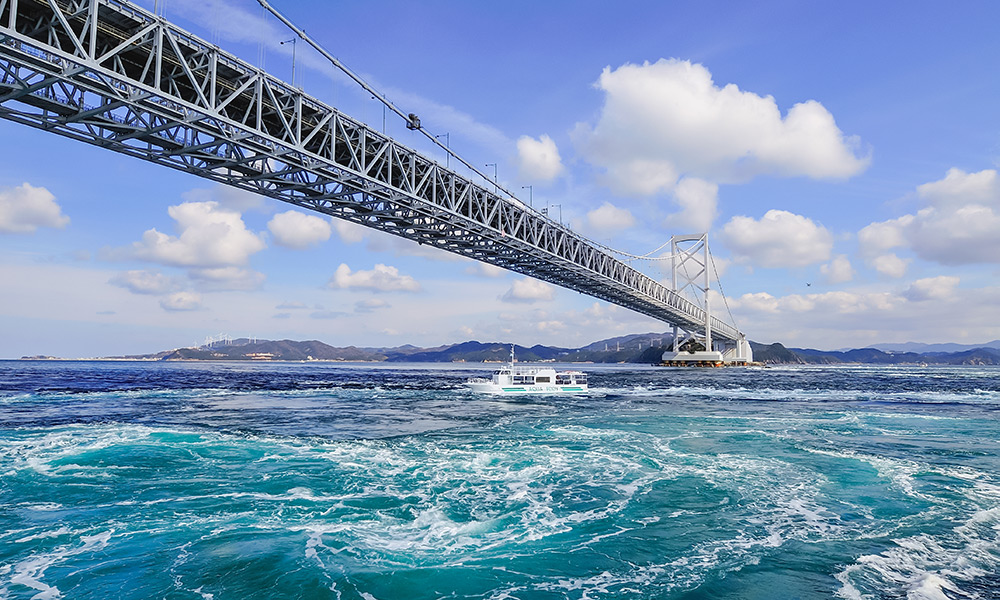 The Naruto Whirlpools
Are you familiar with the Naruto Whirlpools? An astonishing experience awaits you!
Located between Awaji Island and Shikoku, the Naruto Strait is known for its dynamic natural phenomenon of powerful tidal currents
that create large whirlpools. The tidal currents of the Naruto Strait are considered one of
the "Three Great Currents of the World," alongside Italy's Strait of Messina and
Canada's Seymour Narrows. It is an enchanting attraction. It is conveniently located about a 40-minute drive from
Awaji Island's tourist hotels and is definitely one of the must-visit spots when you come to Awaji Island.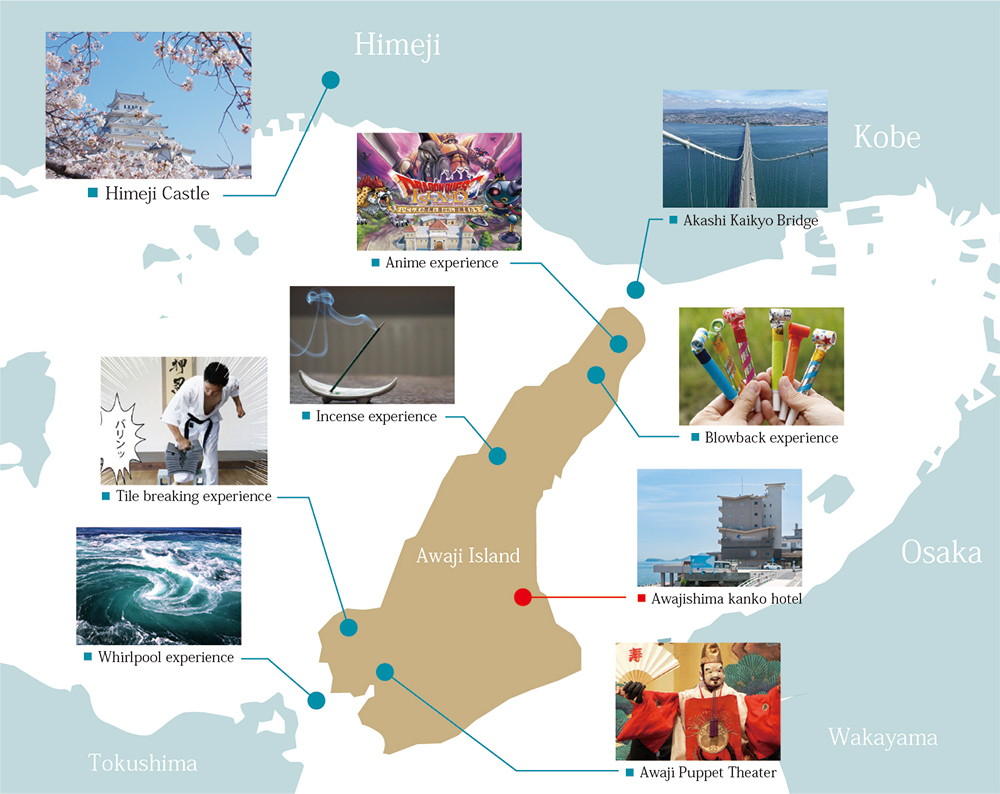 In addition to Himeji Castle and the Naruto Whirlpools, there are many other spots on Awaji Island
where you can experience Japanese culture. Most of these spots are located close to our hotel.
Fishing experiences, kaiseki cuisine, traditional inn stays, and exploring the history and culture of
Hyogo Prefecture can provide you with significant life experiences.
Access
130 minutes by car from Kansai International Airport, 90 minutes by car from Osaka city, 60 minutes by car from Kobe city.
Awaji Island is the closest resort island in Kansai.

MAP
By Car

From Sumoto IC to Awajishima Kanko Hotel
If you are coming by train or plane, please use the express bus from the nearest station.
Once you arrive at the Sumoto Bus Center, you can use the hotel's free bus from here.
Please call the hotel upon arrival.
We will also drop you off at the Sumoto Bus Center on your way home.
By express bus

■ Awaji Kotsu (express bus) timetable
■ Honshi Kaikyo Bus (express bus) timetable
From the Airport

■ Kansai International Airport Limousine Bus Timetable
■ Itami (Osaka) Airport Limousine Bus Timetable
■ Port Liner timetable
■ West Japan JR Bus (express bus) timetable